This is an archived article and the information in the article may be outdated. Please look at the time stamp on the story to see when it was last updated.
During a Monday morning funeral service at Cathedral of Our Lady of the Angels in downtown Los Angeles, slain Downey police Officer Ricardo "Ricky" Galvez was remembered as a compassionate man who was well loved and respected.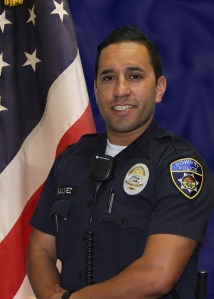 Galvez was fatally shot in what was described as a botched robbery as he sat in his BMW in a parking lot next to the Downey police headquarters on Nov. 18.
Three people, including two teenagers, have been charged in connection with his death.
The funeral service began at 9 a.m. was followed by a graveside service with full police honors at Rose Hills Memorial Park in Whittier.
During the church service, Downey police Chief Carl Charles said Galvez had first joined the department about nine years earlier as a police aide.
"Even at that time, as a 20 year old man, we could sense there was something special about him," Charles said. "He had a smile that would light up a room, and others were naturally drawn to him."
Galvez served a first tour of duty as a U.S. Marine and then returned to become an officer. He later served another tour, bringing Charles back a U.S. flag that was used in military operation by his unit, the chief said.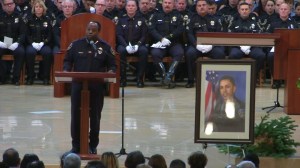 Several months earlier, Galvez "showed his true measure as a man of good will" after a traffic stop of an older woman, Charles said.
The woman had an expired registration, and she told Galvez her husband died recently and she could not afford to pay for the renewal.
"Out of genuine compassion, Ricky let her go with a warning," Charles said.
The next day, Galvez paid the registration fee.
"Even though Ricky was taken from us far too soon, he left a legacy of love and caring for others," Charles said.
Galvez was a five-year veteran of the Police Department and was working to become a K-9 handler. He is survived by his mother, brother and sisters.