This is an archived article and the information in the article may be outdated. Please look at the time stamp on the story to see when it was last updated.
Funeral services were held Tuesday for a Covina police officer who died following a motorcycle crash while on duty last month.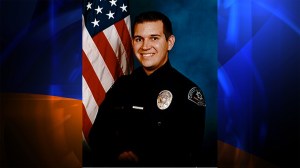 Officer Jordan Corder's motorcycle collided with a Honda CR-V near the intersection of West Puente Street and North Citrus Avenue (map) on Sept. 30.
Corder, the son of a retired Covina police captain, was thrown from the motorcycle and died after being rushed to nearby Inter-Community Hospital.
"The Covina police department family and community suffered a terrible loss today," Capt. Derek Webster said the night of the crash.
Witnesses initially said Corder was chasing another motorcyclist through a red light when he was hit, but Sgt. Gregg Peterson with the Covina Police Department later confirmed that Corder was on routine patrol and there was nothing to indicate he was traveling at a high rate of speed or in pursuit at the time of the crash.
Funeral services for Corder were held at Pomona First Baptist Church (map) at 11 a.m.
The funeral was followed by a law enforcement procession to Forest Lawn Memorial Park (map) for graveside services.
Corder grew up in Covina and graduated from Charter Oak High School.
He followed in his father's footsteps and became an officer in 2007, but only joined the department's motorcycle unit in May.
The Police Association of Covina was accepting donations on behalf of the Corder family to assist in memorializing the officer and to help with travel expenses for family members attending the services from outside the area.
Donations can be made to:
The Jordan Corder Memorial Fund
C/O Police Association of Covina
PO Box 349
Covina, CA 91723
Correction: An earlier version of this article stated the incorrect rank for Corner's father. The story has been updated.