This is an archived article and the information in the article may be outdated. Please look at the time stamp on the story to see when it was last updated.
Funeral services were held Tuesday for Ventura County Sheriff's Deputy Eugene Kostiuchenko, who was killed in the line of duty last week after being struck by a suspected drunk driver during a traffic stop in Camarillo.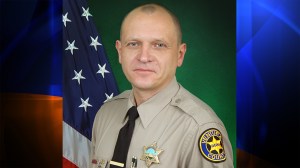 The funeral, which was open to the public, took place at Calvary Community Church (map) in Westlake Village.
The ceremony was attended by family members and fellow law enforcement officers, including Kostiuchenko's former shift partner, Patrick Hawthorne, who spoke during the  funeral.
"Eugene is a hockey fan and loves the Los Angeles Kings, loves wine tasting, good food, conversation, he has an amazing sense of humor, and most importantly he loved his family and all of his animals," Hawthorne said.
Hawthorne talked about the night Kostiuchenko invited him and his wife to dinner, sparking a "wonderful friendship."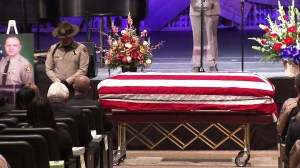 "I quickly learned of Eugene's  Ukrainian traditions, foods,  favorite vodka, and the love he had for both his worlds. Although he was extremely proud his Ukrainian decent he was equally as proud of his new found patriotism for America," Hawthorne said, and concluded by saying "Eugene, you are the most fascinating human being I have ever known. I love you, I miss you, and you will never be forgotten."
A burial ceremony was scheduled to take place following the funeral at Pierce Brothers Valley Oaks Memorial Park (map), the Sheriff's Department stated.
Kostiuchenko, 41, was killed on Oct. 28 when he was struck by a car on the 101 Freeway near Lewis Road in Camarillo.
Kostiuchenko had just finished a traffic stop and was returning to his vehicle when he was hit by the car.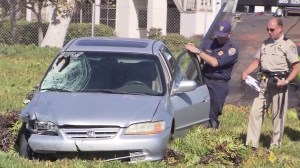 The driver, identified as 25-year-old Kevin Hogrefe, continued heading northbound on the 101 until he crashed a short distance away near Las Posas Road, according to authorities.
Hogrefe was arrested on suspicion of DUI and has pleaded not guilty to murder and hit-and-run charges.
Kostiuchenko, an 11-year veteran of the Sheriff's Department, died at the scene.
Kostiuchenko was an Ukrainian immigrant who had dreamed of becoming a sheriff's deputy, Sgt. Eric Buschow, a colleague said on the day of crash.
Buschow described him as a funny and good-natured guy. "Everyone's going to remember his sense of humor," Buschow said, adding that he was "just a great, great guy."
Kostiuchenko is survived by his wife and two sons.
KTLA's John A. Moreno contributed to this report.
More video: