This is an archived article and the information in the article may be outdated. Please look at the time stamp on the story to see when it was last updated.
A furniture delivery truck crashed into a home in Highland Monday afternoon after the emergency brake failed, according to the San Bernardino County Sheriff's Department.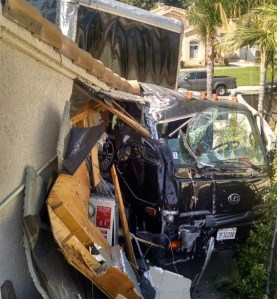 It happened around 3:30 p.m. at a home in the 7000 block of Highland Springs Lane.
Delivery men were unloading furniture at a house down the street when the emergency brake on the truck failed, sheriff's officials stated.
Truck rolled downhill, hit another vehicle and then ricocheted into the house, officials said.
No one inside the house was injured, according to SBSD Capt. DeCecio.
Truck rolled down hill and struck residence. No injuries to occupants of residence. Vehicle unoccupied. Brake failure pic.twitter.com/OteOCZMh2y

— DCCO (@DCCO107) June 16, 2015