This is an archived article and the information in the article may be outdated. Please look at the time stamp on the story to see when it was last updated.
Los Angeles police officers showed off new on-body video cameras that the department is testing at a demonstration downtown on Wednesday.
About 30 officers from the Los Angeles Police Department's Central Division began testing the new units — mounted on an officer's eyeglasses, collar or chest — on Wednesday.
"This is the future of law enforcement," LAPD Chief Charlie Beck said at an event Wednesday to debut the cameras at the department's Central Station on East Sixth Street.
The testing will allow the department to select a model that will then be worn by many more officers; Beck eventually hopes all LAPD officers will wear them.
The cameras were paid for by an unusual fundraising campaign that brought in more than $1.2 million in private donations, according to the Los Angeles Times.
The project has raised questions about civil liberties and how policing will be changed by on-body video recording devices, which are being tested by other police agencies, including one the Rialto Police Department.
LAPD officials on Wednesday said they believe the cameras will improve interactions with the public.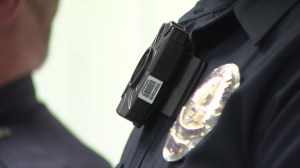 "When you interact on camera, you tend to act differently, and that's true for a police officer, and true for the community that you're dealing with," Sgt. Dan Gomez said. "So if it has the potential of de-escalating a situation — because you believe the camera is on and the camera is recording — and you change for the better, it's a win for both."
L.A. Police Commission President Steve Soboroff pushed for the cameras, spearheading the fundraising campaign, which brought in contributions from Steven Spielberg, Philip Anschutz and the Dodgers, among others, according to The Times.
Soboroff mentioned the on-body camera project in a statement he released upon joining the commission and being made president last August; in September told The Times he would "define" himself with the issue of on-body cameras.
KTLA's Melissa Pamer and Carolyn Costello contributed to this article.