This is an archived article and the information in the article may be outdated. Please look at the time stamp on the story to see when it was last updated.
A 21-year-old gang member has been found guilty of the murder of a young father who was shot to death after the defendant issued him a gang challenge in a Santa Clarita park last year, the Los Angeles County District Attorney's Office announced Monday.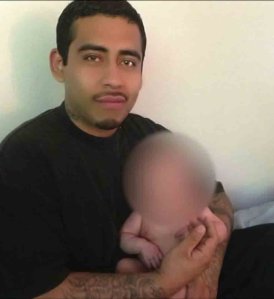 The victim, 25-year-old Ivan Solis, was found dead with multiple gunshot wounds at Begonias Lane Park in July 2017.
Defendant Nicholas Colletta of Saugus issued a "gang challenge" and then opened fire, the DA's office said. He fled the scene with Jacqueline Arreola, 25, of Newhall, who testified as a witness in the case.
A jury found Colletta guilty on Nov. 16, but the verdict was not read in court until Monday.
Arreola in April pleaded no contest to one count of accessory after the fact.
At the time of the killing, the victim's sister told KTLA she was "devastated" over the shooting.
"As long as he's in peace now, you know? It's all good. Maybe it might not be better but as long as he's in peace, that's all that matters," the sister said.
Solis was a young father who had struggled with addiction but was working to turn his life around since the arrival of his 6-month-old baby girl, his friend told KTLA.
Colletta was charged with one count of first-degree murder for the benefit of a criminal street gang, as well as carrying a loaded firearm and possession of a firearm while having three priors.
His sentencing is scheduled for January, and he faces 50 years to life in prison. Arreola will received a sentence of three years of formal probation with time served.