This is an archived article and the information in the article may be outdated. Please look at the time stamp on the story to see when it was last updated.
The 26-year-old felon suspected of fatally shooting a Whittier police officer was not released from state prison early, the state corrections department announced Tuesday, contradicting earlier statements from police and sheriff's officials.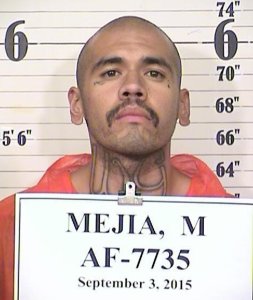 Michael C. Mejia "served his full state prison terms as defined by law," according a statement from the California Department of Corrections and Rehabilitation.
Mejia was released from state prison on April 19, 2016, according to the statement.
Court and jail records show he had been in and out of custody for violating the terms of his release.
Mejia is suspected of fatally shooting Whittier Police Department Officer Keith Boyer as Boyer and another officer responded to a car crash in which Mejia was involved Monday morning. Mejia allegedly pulled out a gun and shot at the officers, prompting an exchange of gunfire that left all three men injured and hospitalized.
Mejia and the injured officer, Patrick Hazell, are expected to survive. Boyer's remains were taken to Rose Hills Memorial Park in a law enforcement procession on Tuesday.
In East Los Angeles several hours before the police shooting, Mejia allegedly fatally shot a man identified by family members as his cousin, Roy Roger Torres, 47.
The Los Angeles County Sheriff's Department homicide lieutenant leading the investigation into the Whittier shooting, John Corina, repeatedly said Monday that the suspect had been released early. The suspect was "released early release on parole" and had been out of custody for about a week, Corina said.
Alongside Sheriff Jim McDonnell, Whittier Police Department Chief Jeff A. Piper on Monday pointed to recent ballot-box propositions and state laws that they said were increasing crime.
"We need to wake up. Enough is enough," Piper said. "You're passing these propositions, you're creating these laws that is raising crime, and it's not good for our communities and it's not good for officers. What you have today is an example of that."
McDonnell referred to a nationwide move to "reduce incarceration," referring to the 2011 prison "realignment" program meant to address prison overcrowding in Assembly Bill 109, and to Propositions 47 and 57.
"In this case, we don't have enough information on this individual at this point to be able to say exactly which one of these initiatives allowed him to be out back in the population," McDonnell said.
But the state corrections department said that no recent California criminal justice reforms had any impact on Mejia's release date.
The only impact was by AB 109, affecting the agency to which Mejia was released, according to the state's statement. Under AB 109, Mejia was released to Post-Release Community Supervision, meaning the L.A. County Probation Department was responsible for monitoring him instead of the state.
On Tuesday afternoon, a Sheriff's Department news release mirrored the statement from CDCR on Mejia's release to the county Probation Department, no longer referring to Mejia as a state parolee. Mejia left Pelican Bay State Prison in Crescent City and reported a day later to the county, on April 20, 2016, the release stated.
Mejia remains hospitalized with a gunshot wound and was booked Monday "for a flash incarceration (probation hold)," the Sheriff's Department said.
Mejia was convicted in 2010 of second-degree robbery with a street-gang sentencing enhancement, receiving a total state prison sentence of four years, CDCR said. A judge gave Mejia credit for 302 days served.
He was paroled Jan. 26, 2014, and then about six months later returned to state prison for grant theft auto and vehicle theft. He received a "a total of four years but running concurrent to the initial sentence (from 2010) of two years," CDCR said in an email.
Mejia was then released to county Probation Department supervision — not state parole — in April 2016. Since then, he has been arrested in L.A. County at least six times, jail records show.
He violated the terms of his release in July and received a 10-day jail sentence, and then was arrested again in September "after authorities moved to revoke his community supervision," the Los Angeles Times reported.
In January, Mejia again violated the terms of his release and served just 10 days of a 40-day jail sentence, according to the Times. Another arrest on Feb. 2 led to a jail term that ended in a Feb. 11 release, the newspaper reported.
Mejia is a documented street gang member and Los Angeles resident, according to the Sheriff's Department.
"We join the entire law enforcement community in mourning Officer Boyer and extend our deepest condolences to his family, friends and coworkers," CDCR's statement began.