This is an archived article and the information in the article may be outdated. Please look at the time stamp on the story to see when it was last updated.
Two gang members were sentenced Wednesday to at least a half-century in prison in the South Los Angeles shooting of a developmentally disabled 19-year-old targeted over his red shoes.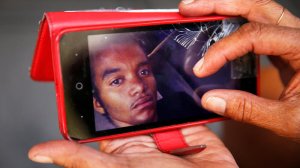 Kanasho Shadrick Johns, 29, and Kevin Deon Johnson, 26, had been found guilty last month in the May 2015 murder of Tavin Price.
Price, who was not a gang member and had no criminal record, was at a car wash in the Hyde Park area with his mother and a family friend when he was targeted.
Because of his red shirt and shoes, the defendants asked Price about his gang affiliation, and the family friend responded that Price was mentally disabled and wasn't in a gang. Price was shot four times and later died at a hospital.
Supporters and family members of Price wore red shoes at a police announcement of arrests last year. His mother, Jennifer Rivers, sobbed, saying her wounded son repeatedly asked her if he was going to die.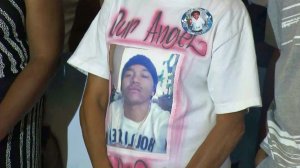 After a monthlong trial, the jury deliberated for about 2 1/2 hours before finding Johns and Johnson guilty of one count of first-degree murder with gang and handgun allegations.
The verdict was returned Oct. 24. Testimony came from some 25 witnesses, some of whom were unresponsive on the stand despite having previously identified the shooter, according to the Los Angeles Times.
The prosecutor told jurors that gangs "control people in such a powerful way," the newspaper reported. "But they do not control the evidence in this case. They do not control this courtroom."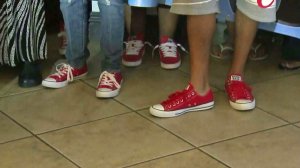 Johns, who fled to Texas after the killing, was also found guilty of one count of possession of a firearm by a felon. Johns was the shooter, the jury found.
Johns smirked as the verdict was read, the Times reported.
"Johns has been making that face since the arraignment," Rivers told the Times. "He has no remorse. Let's see if he makes that face after some years in jail."
Johns was sentenced to 53 years to life in prison, while Johnson got 50 years to life, according to the Los Angeles County District Attorney's Office.
A co-defendant, Dwight Kevin Smith, 31, pleaded guilty to voluntary manslaughter in August. He testified against Johns and Johnson, according to the Times.
His sentencing is scheduled for Dec. 7.
Correction: A photo caption in an earlier version of this article used the incorrect last name for the victim. The post has been updated.