This is an archived article and the information in the article may be outdated. Please look at the time stamp on the story to see when it was last updated.
Several garages and vehicles were destroyed or partially melted in a blaze near an Anaheim apartment, fire officials said Saturday.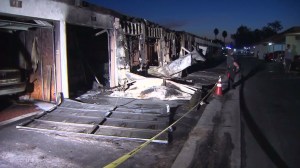 About 40 firefighters responded to multiple reports of a fire in the 2300 block of Ball Road around 11:30 p.m. Friday, on-scene officials said.
The blaze was knocked down in about 30 minutes, but not before damaging several garages and vehicles.
Law enforcement tape sectioned off 10 garages as of Saturday morning. It was not clear if all 10 were damaged, but at least five appeared to be completely blackened and burned.
Several vehicles were destroyed, and some parked across from the fire had melted backends due to the fire's heat.
The garages were part of an apartment, but units were not located near the fire and none were damaged.
Firefighters also said no injuries were reported.
One resident told KTLA multiple break-ins had recently occurred at the apartment and there were not enough security cameras.
"They only have cameras at the two gates so you can see who's coming in and coming out. … If someone wanted to cause it, there may have not been much to prevent it if it was arson," Melissa Hocamsom said.
The cause of the fire was under investigation.