This is an archived article and the information in the article may be outdated. Please look at the time stamp on the story to see when it was last updated.
Los Angeles Mayor Eric Garcetti was expected to discuss the city's response to the drought Wednesday, a day after Caltrans launched a statewide campaign involving more than 700 electronic freeway signs urging people to conserve water.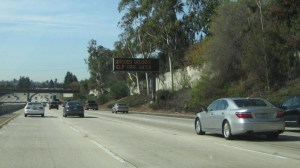 The signs, which popped up along state highways on Tuesday, featured a prominent message to motorists: "Serious drought. Help save water."
"Caltrans has already taken action to sharply restrict water usage," said Caltrans Director Malcolm Dougherty in a news release. "Using our highway message signs, we are asking California's 24 million drivers to join us in this important effort."
The drought message would be scrapped for critical emergency, traffic safety or Amber Alert messages, according to Caltrans.
Gov. Jerry Brown declared a drought state of emergency last month as many areas in California saw their driest calendar on record.
Garcetti was scheduled to tour the Tujunga Spreading Grounds — a project aimed at increasing the local water supply while reducing the city's reliance on purchased water — on Wednesday morning.
More information on the drought can be found by visiting the state's water conservation website, SaveOurH20.org. For tips on how to conserve water, and for information on how to get government rebates for installing water-saving devices, go to BeWaterWise.com.