This is an archived article and the information in the article may be outdated. Please look at the time stamp on the story to see when it was last updated.
A man exhibiting bizarre behavior was arrested after a bomb squad investigated a suspicious device and package tied to him in Garden Grove on Wednesday afternoon, authorities said.
Jonny Knowles, 56, was being held on suspicion of reporting a false emergency after a series of strange incidents at various locations in a central part of town, Garden Grove police said in a news release.
Police initially responded to a report of a suspicious vehicle in the 13400 block of Euclid Street just after 11:15 a.m. and asked for firefighter backup, according to the Garden Grove Fire Department.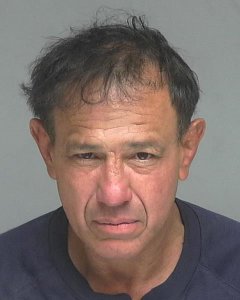 Knowles had gone inside a 7-Eleven convenience store shortly after 11 a.m. and asked an employee if there were any cameras facing the parking lot, a Garden Grove Police Department official told KTLA.
When the store clerk asked why, Knowles allegedly responded that he wanted videos to capture what was about to happen outside.
The man then left, and police were called out to the scene.
When investigators looked inside Knowles' car — a white Ford Mustang — they saw what appeared to be a fertilizer tank with tubes coming out of it in the back seat, according to police.
A bomb squad was called out the scene, and surrounding homes and businesses were evacuated as a precaution, Lt. Carl Whitney told KTLA.
Knowles had left the area on foot but turned up at a nearby nursery, where he called 911 and reported a car fire in the 7-Eleven parking lot, officials said. He also allegedly dropped another suspicious container carrying an unknown fluid at the nursery, prompting police to respond to the second scene.
Both the device in the car and suspicious container were eventually rendered safe, and investigators determined they were not improvised explosives.
Knowles was found hiding in a backyard on the 1100 block of Crosby Avenue and taken into custody, police said. Whitney said the suspect appeared to be under the influence of narcotics.
Euclid Street was shut down from Century Boulevard to the 22 Freeway, and Trask Avenue was also closed during the active investigation. The streets were eventually reopened.
Anyone with information can contact investigators 714-741-5422.
KTLA's Erika Martin contributed to this report.