This is an archived article and the information in the article may be outdated. Please look at the time stamp on the story to see when it was last updated.
An armed homeowner in Garden Grove shot and injured one of two suspected burglars who emerged from his neighbor's house, then helped police detain the other one on Friday, authorities said.
The incident began around 11:30 a.m. when the homeowner returned to his residence in the 13000 block of Rosita Place and discovered two men jumping into the back yard, according to Garden Grove Police Lt. Carl Whitney.
David Avila said the homeowner is his cousin, and he was with him as the ordeal unfolded.
"The guys were coming out with two bags of something," Avila said. "My cousin asked, 'What are you guys doing in my backyard?'"
The men told him they weren't coming from his backyard, Avila said. That didn't matter to his cousin.
The home burglarized sits behind his, on La Bonita Street. A sliding glass window had been smashed and the house was ransacked, officials said.
The homeowner, who was armed, pulled a gun out and tried to detain the two men, according to the lieutenant. They in turn attacked and tried to disarm him.
One of the men was carrying a safe that he refused to drop throughout the scuffle, Avila said. "There must have been something really good in there."
A shot went off amid the scuffle and the suspected burglars attempted to run, Whitney said.
The homeowner told police that one of the men had possibly been shot, but that he still managed to get into a black Lincoln Navigator with paper plates and take off. The SUV was being driven by a third suspect, police said.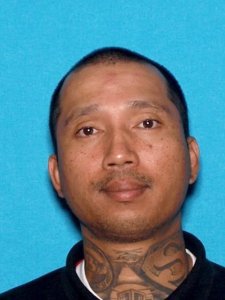 The second man tried to flee on foot. Other neighbors tackled him and held the man down until police arrived, Whitney said.
When officers arrived, they took the suspect into custody.
That man, identified as 36-year-old Long Beach resident Chantha Van, was arrested and taken to a nearby hospital for treatment of minor injuries. He was subsequently admitted for observation for unrelated health issues, officials said.
Officials do not have a detailed description of the individual who escaped in the SUV but said he is an Asian man.
Detectives collected evidence from the burglary and fight scenes and were working to locate the second man in the home and the getaway driver.
No additional information was immediately provided.