This is an archived article and the information in the article may be outdated. Please look at the time stamp on the story to see when it was last updated.
A 34-year-old man suspected of being part of a group of three who posed as deliverymen to rob homes appeared in court Tuesday to face more than two dozen felony counts.
Jerry Cleveland Coleman was arrested Friday, two days after Garden Grove police released surveillance video showing two robberies earlier in the week.
Coleman faces up to 100 years in state prison, according to the Orange County District Attorney's Office. He appeared in court in Westminster.
He was being held on $250,000 bail, according to county inmate records, which listed his occupation as loan officer.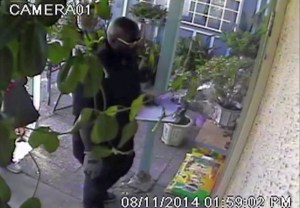 Coleman was accused of posing as a man delivering flowers, along with another robber, in an Aug. 11 home invasion that occurred when two teenagers and 23-year-old woman opened the door to two men for an apparent flower delivery, according to the DA's office. The armed men burst into the home and robbed the victims, according to Garden Grove police.
On Aug. 13, three men entered a gated complex holding balloons. They zip-tied three adults and two children and pushed them into a bathroom, according to the DA's office.
In that robbery, Coleman allegedly forcing the two adult victims at gunpoint to say where valuables were located inside the home while the other two men robbed the victims of their belongings.
A description of the items stolen was not provided by police, nor was the items' value.
Coleman was charged with seven felony counts of first-degree robbery in concert, seven felony counts of imprisonment by violence or deceit, seven felony counts of assault with a semiautomatic firearm, two felony counts of dissuading a witness by force or threat, two felony counts of criminal threats, and sentencing enhancements for the personal use of a firearm and committing a crime against a vulnerable victim, the DA's office said.
The other two people part of the group were still at large.
KTLA's Chip Yost contributed to this article.