This is an archived article and the information in the article may be outdated. Please look at the time stamp on the story to see when it was last updated.
Gardena police fatally shot a suspect at Rowley Memorial Park on Wednesday afternoon and were still searching for an outstanding suspect Wednesday night, officials said.
The incident began as a shootout between two men at a shopping center near the intersection of 135th Street and Van Ness Avenue around 2:30 p.m., according to the Los Angeles County Sheriff's Department, which was investigating the incident.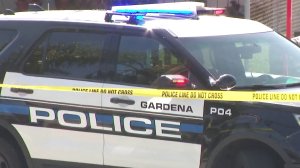 Gardena police had received a call about gunfire in the parking lot of a salon, Gardena Police Lt. Steve Prendergast said. He said nobody was hit, but officers found shell casings on the ground and holes on doors, indicating shots had been fired.
When authorities responded, one man ran one direction, while the other ran down Van Ness. Officers chased the second man on foot, according to sheriff's detectives.
Gardena police opened fire when the suspect drew a firearm in the parking lot of Rowley Memorial Park, Prendergast said.
The man was struck at least once in the upper torso, said Sheriff's Lt. Rodney Moore.
Police did not say how many shots they fired, but Sergio Andrade, who lives nearby, said he heard two.
"I just heard two gunshots," he told KTLA. "I heard sirens, then silence and two gunshots, and then sirens again."
The suspect was transported to a local hospital, where he was pronounced dead, according to the Sheriff's Department. His identity has not been released, but officials described him as black and 25 years old.
A gun recovered at the scene belonged to him, Moore said.
One man who did not want to share his name said the man who died was his neighbor, and he said he wasn't a bad person.
"I seen the cops hop out and draw down on him with the two rifles," he said. "My question is, how is it that somebody could walk into church and shoot innocent people and be escorted out, but there's a suspect in this situation, gets gunned down in the middle of the street like a dog."
On Wednesday night authorities were still processing the large crime scene, on Van Ness Avenue between El Segundo Boulevard and 135th Street, and attempting to locate the second person who had been engaged in the gunfight with the man who was fatally shot.
The motive for the gun battle was unclear.
Officials provided no further details.
Anyone with information can call the Sheriff's Department at 323-890-5500. Those who wish to remain anonymous can contact Crime Stoppers by calling 800-222-TIPS (8477), using the mobile app "P3 Tips" or visiting lacrimestoppers.org.
KTLA's Erika Martin contributed to this report.