This is an archived article and the information in the article may be outdated. Please look at the time stamp on the story to see when it was last updated.
A widespread Southern California Edison power outage early Monday forced the shutdown of the Torrance refinery, raising concerns that gasoline prices throughout Southern California may see a temporary spike.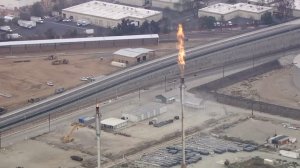 The power outage at 3:31 a.m. cut electricity to 57,582 customers in Gardena, Hawthorne, Inglewood and parts of Los Angeles and Inglewood, said Robert Laffoon-Villegas, an Edison spokesman. The utility restored power to all but 1,600 about an hour later, Villegas said.
"We're still looking at the cause. It's still under investigation," Laffoon-Villegas said.
The outage was enough to cut production temporarily at the Torrance refinery, which PBF Energy bought from Exxon Mobil in July. It will take "multiple days" to return the plant to full service, said Jeffrey Dill, president of PBF Energy Western Region.
Click here to read the full story on LATimes.com.