This is an archived article and the information in the article may be outdated. Please look at the time stamp on the story to see when it was last updated.
Two and a half years after he disappeared, the body of missing Fox executive Gavin Smith has been found, according to the Los Angeles County coroner's office.
The remains were discovered on Oct. 26 by hikers in a rural area of Palmdale, according to Nicole Nishida with the Los Angeles County Sheriff's Department.
They were later positively identified as the 57-year-old husband and father.
The autopsy results were not finalized and the cause of death had not been determined, Nishida said.
The coroner's office confirmed Wednesday night that they had Smith's body, but said the case was on a security hold and no other information would be released by their office.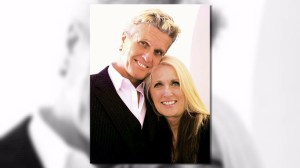 Smith was last seen on the night of May 1, 2012 leaving a friend's house in Oak Park.
When he failed to pick up one of his sons for school the next morning, his family reported him missing.
In March 2013, investigators announced they had found Smith's 2000 black Mercedes-Benz at a storage facility in Simi Valley.
"Based upon the condition of the vehicle and based upon information we have gathered from witnesses who are cooperating, we believe that this case is a homicide case," Lt. Dave Dolson said at the time.
A public death certificate was issued for Smith two years after his disappearance, dated May 1, 2012.
Smith was an executive in charge of distribution for Fox.
He played basketball at UCLA, where he was part of the team that won the 1975 NCAA championship under coach John Wooden.
Correction: An earlier version of this post included a mislabeled photo. The caption has been updated.