This is an archived article and the information in the article may be outdated. Please look at the time stamp on the story to see when it was last updated.
A German man convicted of setting fire to vehicles and homes across the Los Angeles area during the holiday season six years ago was sentenced to more than 30 years in prison on Friday.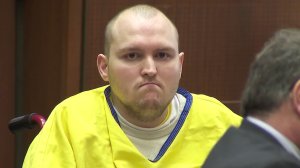 Harry Burkhart, 30, was given 33 years and four months in state prison for the string of arson incidents that began on Dec. 30, 2011 and lasted five days, the Los Angeles County District Attorney's Office said in a news release.
Burkhart sparked 47 fires under vehicles and near homes in the San Fernando Valley, Hollywood and West Hollywood during that time period, according to prosecutors. He had claimed insanity, but was found guilty last September after a jury declared him to be sane.
He was convicted of 25 counts of property arson, 18 counts of arson of an inhabited dwelling and two counts each of incendiary device possession, attempted arson and arson of a structure. The blazes caused at least $3 million in damage, the Los Angeles Times reported.
Burkhart sat in a wheelchair, wearing a yellow prison jumpsuit and frowning as a German language interpreter translated the court proceedings Friday.
He showed little emotion as victim impact statements were read, including one from a woman who said she lost all her work and is struggling to recover after she was without a car for more than a year, and another who said she escaped her burning home just 30 seconds before it was completely engulfed in flames.
Prosecutors believe the fires were a form of revenge after Burkhart's mother was arrested in the U.S. after being accused of crimes in Germany.
The 30-year-old is expected to return to court on June 29 for a restitution hearing.