This is an archived article and the information in the article may be outdated. Please look at the time stamp on the story to see when it was last updated.
A German shepherd who was missing for five weeks and presumed dead after falling off a fishing boat one night nearly two miles from San Clemente Island received a warm reception upon her safe arrival in Coronado Wednesday.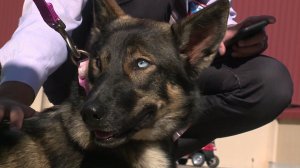 Family members told officials that Luna was in the boat one minute and then gone the next, local television station KSWB reported.
"They drove around the island multiple times" searching for Luna, her owner's fishing partner told KSWB.
After several days of being lost at sea, Luna was presumed dead.
But about five weeks after her disappearance, Navy staff spotted Luna as they drove on San Clemente Island.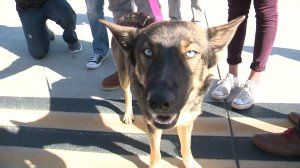 "We opened up the door and whistled and in she jumped," one staff member told KSWB. "Everyone fell in love with her."
Luna apparently managed to swim nearly two miles to reach the island, and survived by drinking from puddles left behind by recent El Niño rains.
"There's no standing fresh water on the island on a permanent basis," the staff member said. Those with Luna also thought she may have survived by eating dead seagulls, fish corpses and rats, KSWB reported.
On Wednesday, Luna was flown to Naval Air Station North Island where owner's fishing partner was waiting to pick her up.
Luna's owner, Nick, was headed to the San Diego area as quickly as possible to reunite with Luna, his friend said.
"There's not really any words that can explain it ... This is not a day that we thought would ever happen," Nick's friend told KSWB.