This is an archived article and the information in the article may be outdated. Please look at the time stamp on the story to see when it was last updated.
The Getty Fire was caused by a tree branch that fell onto power lines, causing them to spark and start the wildfire that has destroyed 12 homes and torn through 650 acres in Brentwood and surrounding areas, authorities said Tuesday.
The dried Eucalyptus branch was ripped from a tree by high winds before being blown into Los Angeles Department of Water and Power lines just before the wildfire broke out 1:30 a.m. Monday, authorities said. The tree it fell from is located about 30 feet from the power lines, according to the utility.
Authorities said the branch was found near 1901 N. Sepulveda Blvd.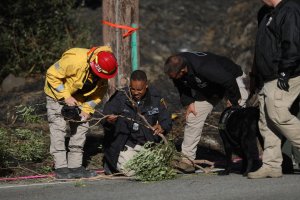 Describing the incident as an "act of God," Los Angeles Mayor Eric Garcetti said the utility was not at fault. He said there was no failure of electrical equipment — something that's happened with other wildfires and led to scrutiny of utilities.
In Northern California, the Kincade Fire that's burned more than 100 square miles in recent days may have been started by a Pacific Gas & Electric high-voltage transmission line that malfunctioned, the utility admitted last week.
In the area where the Getty Fire started, all electrical wires and equipment at the site were fully intact, according to LADWP.
Garcetti and L.A. Fire Department Chief Ralph Terrazas said they both viewed video that shows an explosion on the side of the road in the Sepulveda Pass. "That's the moment we believe this fire began," Garcetti said.
The #GettyFire was likely caused by a tree branch that broke off during the high wind conditions and subsequently landed on nearby powerlines, which resulted in sparking that ignited nearby brush. #LAFD #LAPD #LADWP Details: https://t.co/8bBGPrDN54 pic.twitter.com/3yauqgBmdH

— 🅔🅡🅘🅚 🅢🅒🅞🅣🅣 (@PIOErikScott) October 29, 2019
The wildfire was sparked just outside an area where highly flammable vegetation had been cleared, fire officials said Tuesday. It scorched more than 600 acres within the first eight hours.
Terrazas said he was "confident in the results" of the arson investigation even though it's been just a day since the fire started. "We've never put out a cause this quickly in a major brush fire incident," he said.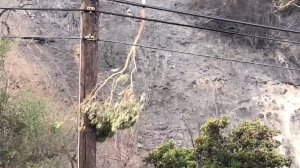 He also viewed several photographs in the arson investigation, he said, and the fire department has been working with LADWP on fire prevention efforts.
Earlier this summer, 248 trees were trimmed in the same area of the city by LADWP — a measure to keep flammable vegetation from igniting while avoiding planned outages like those in Northern California, utility officials said.
PG&E has been widely criticized for massive outages that have left more than 2 million Northern Californians in the dark.
SoCal Edison recently told its shareholders its electrical equipment will likely be found associated with the Woolsey Fire that killed three people and destroyed more than 1,000 homes last year, the L.A. Times reported.
The #GettyFire was likely caused by a tree branch that broke off during the high wind conditions and subsequently landed on nearby powerlines, which resulted in sparking that ignited nearby brush. #LAFD #LAPD #LADWP Details: https://t.co/8bBGPrDN54 pic.twitter.com/3yauqgBmdH

— 🅔🅡🅘🅚 🅢🅒🅞🅣🅣 (@PIOErikScott) October 29, 2019