This is an archived article and the information in the article may be outdated. Please look at the time stamp on the story to see when it was last updated.
A search was underway Sunday in Compton for the gunman who shot and killed a 14-year-old girl, authorities said.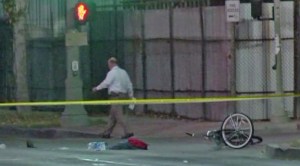 The teenager was riding a bicycle near the corner of Alameda Boulevard and Elm Street (map) around 10 p.m.  Saturday when the incident happened, the Los Angeles County Sheriff's Department said in a statement.
The victim was shot multiple times. Paramedics transported her to an area hospital where she was pronounced dead.
The girl was a member of a local street gang and the shooting was believed to be gang related, according to the Sheriff's Department.
Family members identified her as Alicia Gomez. Her cousin, Jonathan Gomez, said she was "just hanging out with the wrong crowd" and was in the "wrong place at the wrong time."
No arrests had been made as of Sunday evening.
"A man — or whoever it was — driving around with a gun, shooting a 14-year-old on a bicycle," said Jonathan Gomez. "What has the world come to? What has life come to?
The Sheriff's Department's Homicide Bureau urged anyone with information to call them at 323-890-5500. If you prefer to provide information anonymously, you can call "Crime Stoppers" by dialing 800-222-TIPS (8477).