This is an archived article and the information in the article may be outdated. Please look at the time stamp on the story to see when it was last updated.
A 16-year-old girl riding in the backseat of a car with her family as she was returning from church was fatally shot Wednesday night when a gunman's stray bullet missed its intended target and struck her, officials said.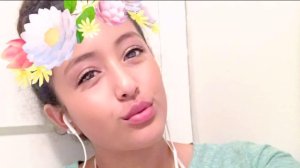 The shooting was reported about 9:30 p.m. near the intersection of Long Beach Boulevard and Euclid Avenue, Los Angeles County Sheriff's Department Sgt. Robert Gray said.
Investigators believe the intended targets, two men, were driving in a Saturn that was being chased by another vehicle before the shooting occurred, according to a news release from the Los Angeles County Sheriff's Department.
At some point, the Saturn became stuck in traffic and a man exited the "suspect vehicle" and shot multiple rounds at the "target vehicle," according to the news release.
One of the bullets missed the target vehicle and entered the victim's car through the back panel near the license plate and struck the girl from behind, the Sheriff's Department stated.
The victim, identified as 16-year-old Danah Rojo Rivas, was sitting in the back seat of a Mustang with her dog on her lap when she was struck, according to the news release.
Rivas' mother and 18-year-old brother were also in the car but were uninjured.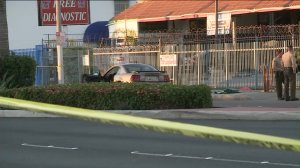 Realizing her daughter had been shot, the girl's mother pulled over and paramedics were called, but the Rivas died at the scene.
"My heart goes out to the family. They're supposed to be celebrating a day of thanks and today they're going to be in mourning," Gray said.
The suspect vehicle made a u-turn and fled the scene immediately following the shooting.
The intended targets abandoned their vehicle at the scene and have not been found, according to the Sheriff's Department.
Several motorists witnessed the shooting, Gray said.
One witness asked for anyone with information on the gunman to come forward.
"She was 16 years old and was coming from church," witness Prudence Simmons said.
The Sheriff's Department confirmed the teen had been volunteering at the church Wednesday evening before being shot on her way home.
The gunmen were described as two black men between 25 and 30 years old.
Investigators believe the shooting may have been caught on surveillance video.