This is an archived article and the information in the article may be outdated. Please look at the time stamp on the story to see when it was last updated.
After a 2-year-old girl disappeared while on a Christmas Eve supervised visit with her father at The Grove in the Fairfax area of Los Angeles, her mother and police on Monday asked for help finding the child.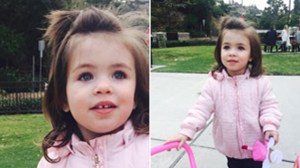 Lucia Perry disappeared with her father Jack Perry, 31, in the 100 block of The Grove Drive about 5 p.m. Dec. 24, according to a Los Angeles Police Department news release.
The person who was supervising the visitation "lost sight" of the pair at that location, and the father has eluded police since then, according to LAPD.
Jack Perry, a British national, could take the girl out of the country, LAPD Capt. Andrew Neiman said. Anyone who sees him or Lucia should call 911, the captain said.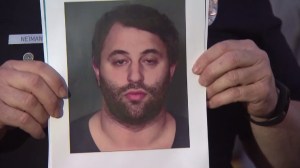 "We are … hoping that somebody will recognize Lucia, who is very adorable, as you can see. It would be very easy to spot her, or Mr. Perry," Neiman said at an early evening news conference at LAPD's Van Nuys Division.
The girl's mother, Elise Perry, tearfully begged for help finding her daughter. She described the girl's large blue eyes and gap between her teeth.
"It's been 4 1/2 days, and she's never been a day away from me. I miss her so much," Elise Perry said. "I just want to know she's safe."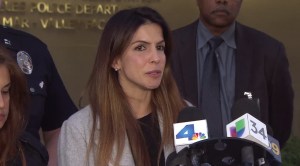 The child was with a court-appointed monitor during the visit, one of three supervised five-hour visits the father gets each week, she said.
"It was too crowded and they got away," the girl's mother said.
Lt. Jim Gavin told the Los Angeles Times that Lucia and Jack Perry were outside a Barnes & Noble store at The Grove when they vanished.
Lucia was later seen with her father at a Beverly Hills hotel on Sunday, Gavin said.
Neiman said Perry has not returned to his Hollywood-area home, and is no longer staying at the Beverly Hills hotel where he was seen. Police believe he is staying at a hotel.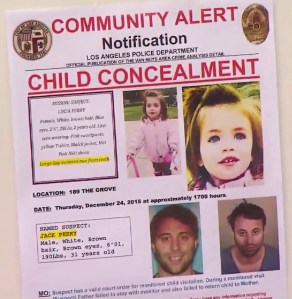 The father, who has a minor criminal history, last lived in Santa Monica and has access to a private aircraft, Gavin told the Times.
Police called the disappearance an instance of "child concealment," and said they take such cases very seriously.
Neiman said detectives had been investigating and had hoped that Jack Perry would be found more quickly. He is not believed to have harmed his daughter.
"He has made it apparent to us at this point that he is making every effort to elude us," Neiman said.
Lucia was described by police as Caucasian, with blond hair and blue eyes, about 2 feet 6 inches tall and with a "small build." In photos provided by LAPD, the girl appeared to have brown hair.
She was wearing pink sweatpants, a yellow T-shirt and hot pink Nike shoes when last seen, police said.
Elise Perry called her daughter "very verbal."
"She loves to talk. She's always dancing, singing — a very, very happy baby," she said.
Jack Perry was described as Caucasian with brown eyes. An LAPD flier described him at 6 feet 1 inch tall and 190 pounds.
Anyone with information on Jack or Lucia Perry's whereabouts was asked to call LAPD's Van Nuys Division detectives K. White or M. Santana at 818-374-1913.