This is an archived article and the information in the article may be outdated. Please look at the time stamp on the story to see when it was last updated.
The search for a missing 8-year-old girl who disappeared while riding her scooter in Santa Cruz on Sunday ended Monday night with the discovery of a body in a dumpster, according to police.
The Santa Cruz office of the California Highway Patrol tweeted, "Our hearts are broken and our deepest sympathy to the family of Madyson Middleton. We are grieving with the entire Santa Cruz community."
A detective discovered the body of a young girl around 7:55 p.m., according to Santa Cruz Police Chief Kevin Vogel.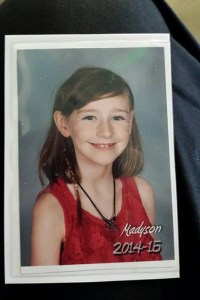 The body was found in a dumpster located on the grounds of the Tannery Arts Center complex where the girl lived, Vogel said.
A 15-year-old boy who lives at the same apartment complex was arrested at the scene.
"He is being detained and questioned at the police department for investigation of homicide," Vogel said.
The child's body had not been officially identified.
"The coroner's office is typically the agency that makes the identification, but we are fairly confident at this point that it is Madyson Middleton," Vogel said.
No other information was released.
Middleton was last seen riding her white Razor scooter away from her residence at the Tannery Arts Center in the 1000 block of River Street in Santa Cruz at around 5:30 p.m. Sunday, according to a CHP advisory.
In a Facebook post, the Santa Cruz Police Department stated officers and detectives have scoured the area where she went missing, but have been unsuccessful in their efforts to locate the girl thus far.
A Santa Cruz Sheriff's Office Search and Rescue team also assisted in the initial all-out search, and police have called in a specially trained K-9 Unit from the State Office of Emergency Services, the Facebook post stated.
The FBI was also aiding in the search, Santa Cruz police spokeswoman Joyce Blaschke said during a late-morning news conference. As crews continued looking for a second straight day, police have expanded the search area beyond the initial 4-mile radius.
There were no immediate signs of foul play, but Blaschke added that it was "suspicious to have a child missing this long."
At the time she went missing, Madyson was in her mother's custody, the police spokeswoman said. Both of the girl's parents were cooperating with the investigation.
Our hearts are broken and our deepest sympathy to the family of Madyson Middleton. We are grieving with the entire Santa Cruz community.

— CHP Santa Cruz (@CHPscrz) July 28, 2015