This is an archived article and the information in the article may be outdated. Please look at the time stamp on the story to see when it was last updated.
The Anaheim Police Department offered a $50,000 reward Thursday for information leading to the arrest and conviction of the person who shot and killed a 9-year-old girl the previous day. The Anaheim Police Association also offered an additional $5,000 reward.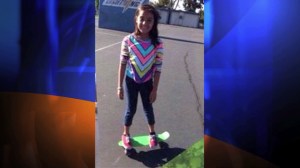 The coroner's office identified Ximena Meza as the young girl who was struck by gunfire while playing in a home's front yard in 2300 block of West Greenacre Avenue (map). The incident was reported at 7:15 p.m. Wednesday, according to Lt. Bob Dunn with the Anaheim Police Department.
Candles, balloons and stuffed animals were placed at the site Thursday.
"She was great," father William Meza said. "Anyone who knows her, they can tell she was a great daughter."
Ximena was the eldest of three girls, according to the association. She was playing in the family's front yard with one sister when she was shot.
"Losing a child is horrible and tragic to any family, but to lose a bright and beautiful 9-year-old girl due to gang violence is unacceptable and we should do everything in our power to bring the person(s) responsible to justice," Anaheim Police Association President Kerry Condon stated in a news release.
A GoFundMe page was also established to help with memorial costs for Meza. Over $6,000 had been donated, of the $10,000 requested, as of Friday morning.
One witness said William Meza held her after the shooting and begged God to let her live.
A second witness tearfully recounted trying to help the girl.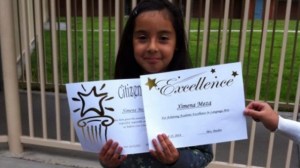 "She got shot on her right side, so I told someone to go in and get a towel so we could go ahead and put pressure on the wound," Marquis Oliver said.
"I began to give her CPR," Oliver said. "Her hands were cold, her forehead was cold, but she was still breathing."
Meza was rushed to UCI Medical Center in critical condition.
She died around 7:56 p.m. at the hospital, according to the coroner's office.
It was not clear where the gunfire originated and an investigation was underway.
The neighborhood was known for gang activity, Dunn said.
William Meza said neighbors were afraid to say anything.
Anyone with information was asked to contact Detective Julissa Trapp of the Anaheim Police Department at 714-765-1573.
More video: