This is an archived article and the information in the article may be outdated. Please look at the time stamp on the story to see when it was last updated.
A 22-month-old girl who was born as a conjoined twin in Panama arrived in Los Angeles to undergo reconstructive surgery that she could not receive in her own country.
Ana Paula was born joined at the pelvis with her twin sister in a rural village in Panama.
The two girls were separated when they were 20 days old in a procedure that her sister did not survive and that left Ana Paula with three legs, three kidneys and possible reproductive issues.
This type of medical condition was so rare that there were only 12 survivable cases like it each year in the world, said Dr. Kit Song, Chief of Staff for Shriners Hospitals for Children – Los Angeles.
The toddler was expected to undergo numerous surgeries including the removal of two of her non-functional legs before being fitted with a prosthetic.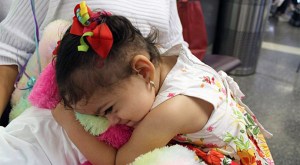 "Will she be able to run and play like other children, no," Song said.
"She will be different than other children, but she will be able to move about and keep up with her peers," he said.
The toddler's trip to Los Angeles for treatment was made possible through a collaborative effort between Shriners Hospitals for Children – Los Angeles and the Children of War Foundation, which secured funding for Ana Paula's medical costs and long-term rehabilitative care.
Click here for more information on the Children of War Foundation.