This is an archived article and the information in the article may be outdated. Please look at the time stamp on the story to see when it was last updated.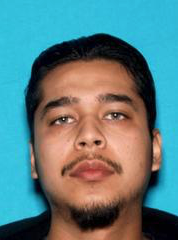 An 11-year-old girl who was critically injured in a Lancaster hit-and-run crash earlier this week has died, and the man who allegedly fled the scene after the incident has been arrested, Los Angeles County Sheriff's officials announced Friday.
The two-vehicle crash occurred on about 12 a.m. Tuesday near the intersection of 20th Street East and Lancaster Boulevard.
The girl, a passenger in one of the vehicles, was airlifted to a hospital in "extremely critical condition," according to a sheriff's news release.
She died on Thursday "surrounded by her family," the news release reads.
Eduardo Medrano Jr. was seen by witnesses leaving the scene in a Infinity 4-door sedan.
Medrano turned himself in at the Lancaster sheriff's station on Friday.
He was booked on suspicion of felony hit and run nd his bail was set at $250,000.