This is an archived article and the information in the article may be outdated. Please look at the time stamp on the story to see when it was last updated.
A 13-year-old girl inside a Westlake district classroom where two students were shot and three others were injured Thursday morning let her sister know she was OK by sending text messages following the shooting.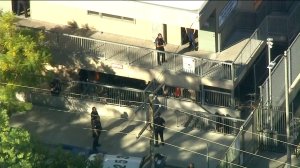 The shots rang out about 8:55 a.m. at Sal Castro Middle School and Jocelyn Lopez says her younger sister, a 13-year-old seventh grader, was sitting right next to two of the girls who were injured.
In her texts, Lopez's younger sister let her know that she was fine, but stated she "just heard something pop inside the classroom."
That's when everybody started to panic, the sister told Lopez.
"It was really close to her," Lopez said. "Not even the school is safe … it's just bad," she said.
A 12-year-old female student is in custody and is being called a suspect.
One of the victims, a 15-year-old boy, was shot in the head and hospitalized in critical but stable condition, according to Capt. Erik Scott of the Los Angeles Fire Department. A female victim, also 15, had a gunshot wound to her wrist and was in fair condition.
The three others' injuries were caused by "peripheral stuff," Los Angeles School Police Department Chief Steven Zipperman said.
The school remained on lockdown midday Thursday but classes were continuing.
Family members could be seen crowding outside the school trying to get word from authorities about their loved ones.
One woman said that officers told the crowd they were still trying to determine where and when students would be released.
A hotline has been set up for parents at 213-241-1000.