This is an archived article and the information in the article may be outdated. Please look at the time stamp on the story to see when it was last updated.
More than a month before he was scheduled to be sentenced for possessing child pornography, "Glee" star Mark Salling was found dead in an apparent suicide in Los Angeles on Tuesday, according to LAPD. He was 35.
Los Angeles Police Department sources confirmed the actor's death to KTLA, saying Salling hanged himself.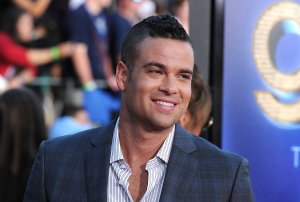 Salling's attorney, Michael J. Proctor, also confirmed in a statement that his client had died early Tuesday morning
"Mark was a gentle and loving person, a person of great creativity, who was doing his best to atone for some serious mistakes and errors of judgment," the statement read in part. "He is survived by his mother and father, and his brother.  The Salling family appreciates the support they have been receiving and asks for their privacy to be respected."
Earlier, LAPD Detective Meghan Aguilar said a death investigation was underway after a body was found about 8:50 a.m. in the 11900 block of Big Tujunga Canyon Road, in the Tujunga area. A body was taken away from the location, which is near the Big Tujunga Creek, during the morning hours, video from the scene showed.
Aguilar did not identify the person, noting the L.A. County coroner's office had not arrived on scene at that point.
Salling had pleaded guilty to one count of child pornography involving a prepubescent minor as part of a plea agreement back in mid-December, according to the California Department of Justice. As part of that deal, which was filed in October, he admitted to downloading 25,000 images of children engaging in sexual acts and used software designed to hide the illegal activity.
The images were downloaded in 2015; his arrest came in December of that year.
The crime carries a minimum sentence of 20 years, but Salling was to be sentenced to between four to seven years in federal prison, and 20 years of supervised release as part of the plea agreement. He would also have to register as a sex offender.
His sentencing was scheduled for March 7.
Salling was best known for his role as Noah "Puck" Puckerman on "Glee," the musical television show that ran from 2009 to 2015.
KTLA's Mary Beth McDade and Jennifer Thang contributed to this story.