This is an archived article and the information in the article may be outdated. Please look at the time stamp on the story to see when it was last updated.
A 55-year-old Glendale man pleaded not guilty Tuesday in the hit-and-run crash that killed a 4-year-old girl in the street in front of her home.
Shant Badleean was charged with one felony count of hit-and-run driving resulting in death in connection with the March 6 crash, according to the Los Angeles County District Attorney's Office.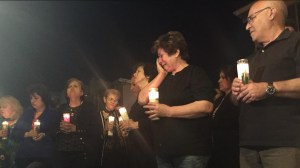 The girl, identified by family members as Violeta Khachaturyan, was playing in her front yard just before 5 p.m. when she walked onto Wilson Street and into the path of an oncoming car, Sgt. Tom Lorenz with the Glendale Police Department reported at the scene.
"It is apparent that the child unfortunately ran into the street in between two parked cars," Lorenz said.
The impact threw the girl 40 feet. She landed on the back of another car, shattering the rear window, according to Lorenz.
Badleean drove off without rendering any aid, the DA's office stated.
Violeta was transported to Glendale Adventist Hospital where she was pronounced dead.
Badleean surrendered to police the day after the crash.
He was due to return to court on June 29.
If convicted as charged, Badleean could face a maximum possible sentence of four years in state prison.