This is an archived article and the information in the article may be outdated. Please look at the time stamp on the story to see when it was last updated.
Glendale police have located two brothers reported missing Wednesday by their grandparents who were caring for the boys in the wake of their father's death.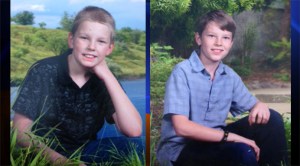 The boys, 12-year-old Ryan Handlin and 11-year-old Marquis Handlin, were found Wednesday afternoon at a friend's house in North Hollywood, according to Glendale Police spokesman Sgt. Tom Lorenz.
The boys are fine and will be returned to their grandparents, Lorenz said.
Detectives contacted the Los Angeles County Department of Children and Family Services, which will monitor the family, police said.
No other information was released.
Foul play was not suspected, but there had been concern for the brothers' safety because of their young age, police had said.
"We believe they're runaways at this stage," Glendale police spokeswoman Tahnee Lightfoot said before the boys were found
A team of officers searched for the boys, and police agencies in surrounding communities were helping as well, Lightfoot said Wednesday afternoon.
Lightfoot was not certain when the boys' father had died and she said little other information was available about the case.