This is an archived article and the information in the article may be outdated. Please look at the time stamp on the story to see when it was last updated.
Residents in two fire-scarred San Gabriel Mountain foothill neighborhoods were told to evacuate Thursday as they continued to prepare for possible flooding and mudslides in an advance of a second storm that was slated to bring heavy rain to Southern California.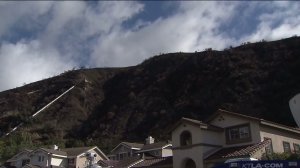 Mandatory evacuations were ordered at noon Thursday in areas of Azusa and Glendora affected by last month's Colby Fire, which left nearly 2,000 acres of mountains and hillsides scorched and bare.
Streets in the burn area of Glendora were to be subject to a "hard closure" at 8 p.m., police announced.
A flash-flood watch was scheduled to go into effect late Thursday and extend through Saturday night in parts of Los Angeles County affected by recent wildfires, according to the National Weather Service.
A flood watch was also set for parts of Orange County and the Inland Empire, the weather service announced.
Rain rates were expected to range from one-half to 1 inch per hour, "which could cause significant mud and debris flows," the weather service said in a statement. Isolated thunderstorms were predicted to intensify rainfall in some areas, the weather service said.
Hillsides that have not recovered from wildfire pose a danger during rains because water can run off the scorched soil and into residential areas, authorities said.
In Azusa, a mandatory evacuation order was in effect Thursday for the Ridge View Drive neighborhood, according to a statement issued by the Azusa Police Department. Information about other neighborhoods was at the department's website.
Mandatory Evacuations Are Now Officially In Effect For Portions Of Azusa – Read More http://t.co/BruSvW4EiU

— Azusa Police (@AzusaPD) February 27, 2014
Glendora's mandatory evacuation order affected those in the "Colby Fire impact area" due to "high probability of debris and mudflow." The impact area — where streets were set to be closed at 8 p.m. — stretches north from Sierra Madre Avenue between the city's western boundary and the Little Dalton Wash on the eastern edge of the city.
Those who refuse to leave were to be asked to sign a form acknowledging they were aware of the risk and assumed liability for their decision to remain, according to a news release from the city. More information was posted at the city's Colby Fire page.
#colbyfire The Alert Status for the Colby Fire Impact Area has been updated to RED. MANDATORY evacuation orders… http://t.co/NxfaGVtH6b

— GlendoraPD (@Glendora_PD) February 27, 2014
There was no damage reported in an initial storm wave that began Wednesday night and continued into Thursday, but area residents said they remained on edge.
As Danny Daher stood outside his Glendora home, which abuts the area scorched by the Colby Fire, he said he was "very worried" about possible mudslides.
"We're trying to be ready to evacuate if the situation gets really more than what we have here right now," Daher said. "If it gets any worse, we're ready to leave. We have everything packed, ready to go."
#colbyfire Don't let the blue sky fool you. The City of Glendora's Emergency Operations Center is set up so we are ready to go for storm #2.

— GlendoraPD (@Glendora_PD) February 27, 2014
Officials in Glendora on Wednesday had declared an "orange-level" emergency alert due to concerns that mud and water could flow into residential areas. That alert was raised to "red" at noon Thursday, the city stated on its Facebook page.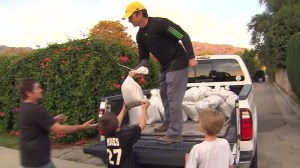 Under the city's emergency alert, residents were also asked to remove vehicles, trash bins and other obstructions from the streets to allow emergency vehicles to get through.
An evacuation center was set up at the Crowther Teen and Family Center located at 241 W. Dawson Ave. in Glendora.
The Inland Valley Humane Society was expected to be at the evacuation center to assist with small animals. Horses and large animals should be taken to Gate #1 at the Pomona Fairplex, authorities said.
Sandbags could be obtained at Glendora's City Yard located at 440 S. Loraine Ave. and, in Azusa, at Fire Station 32 at 605 N. Angeleno Ave.
In nearby Monrovia, where the Madison Fire burned last spring, evacuation orders had not been issued as of midday Thursday, but the city was on a "yellow" level of threat, police said on Twitter. That meant streets were ordered cleared and residents told to prepare their homes for possible debris flows.
Several roadways in the San Gabriel Mountains were closed due to the storm, according to the Los Angeles County Department of Public Works.
https://twitter.com/dpwCARE/status/439107791467196416
And the county Department of Public Health issued a rain advisory warning of pollution from runoff at beaches through 7:30 a.m. Tuesday.