This is an archived article and the information in the article may be outdated. Please look at the time stamp on the story to see when it was last updated.
The defense attorney for Golden State Killer suspect Joseph James DeAngelo Jr. is trying to stop investigators from obtaining more DNA samples and photographing DeAngelo's body, including his genitals, according to motions filed this week in Sacramento County.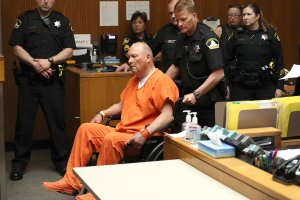 "The government seeks to execute a warrant issued before the defendant's arrest and arraignment," defense attorney Diane Howard argued in a court filing Tuesday. "But the government's right to unfettered investigation is substantially curtailed by constitutional concerns which attend the right to a fair trial and a right to counsel."
DeAngelo, 72, is suspected of raping at least 46 women and killing at least a dozen people. He was arrested at his home April 24, just days after DNA samples surreptitiously gathered from him by law enforcement linked him to crimes attributed to the Golden State Killer and East Area Rapist.
For more than 40 years, law enforcement agencies up and down California had hunted for a man who terrorized the East Bay, the Sacramento area and Southern California in the '70s and '80s.
Read the full story on LATimes.com.