This is an archived article and the information in the article may be outdated. Please look at the time stamp on the story to see when it was last updated.
A fire that prompted Gov. Jerry Brown to declare a state of emergency in Santa Barbara County after it destroyed homes and prompted evacuations in Goleta reached 80 percent containment on Saturday.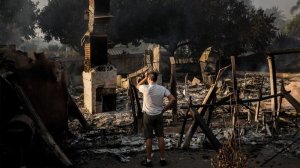 The Holiday Fire started just after 8 p.m. on Friday north of Cathedral Oaks Road between Fairview and Patterson avenues, according to authorities.
About an hour later, mandatory evacuation orders were issued for around 2,500 residents. County officials proclaimed a local emergency at 1 a.m.
Santa Barbara County fire spokesman Mike Eliason on Saturday morning said about 350 fire personnel responded to the fire, which burned 50 to 80 acres and was 5 percent contained.
The fire's containment increased to 80 percent and some areas under mandatory evacuation were downgraded to an evacuation warning status at 5 p.m., according to a Santa Barbara County news release.
The blaze has destroyed or damaged some 20 structures, including homes, Eliason added.
Resident Eric Durtschi said he knew his home was going to burn after he and his family left carrying photographs and journals.
"It's really hard to see…We saw it burning live on TV," he told KTLA.
Durtschi said his family had just moved in two weeks ago. According to a GoFundMe page, they  relocated from Utah.
The father said they left after his daughter smelled smoke while they were watching a movie.
"We have six kids, and I want them to know this isn't the end," he said. "It's fine, we're all alive."
VegFire-#HolidayIncident A Santa Barbara CO FD FF puts water on flames at a home off Fairview Avenue in Goleta. pic.twitter.com/W56ZUyxG2d

— SBCFireInfo (@EliasonMike) July 7, 2018
Pic from the ground while we are out here covering the #HolidayFire Many properties lost and families evacuated. So far, no reports of injuries. @KTLA @KTLAMorningNews #ktla pic.twitter.com/Xy45ZBuSaN

— Chris Gierowski (@tepall14) July 7, 2018
Mandatory evacuation orders remained in effect from North Fairview Avenue north of the intersection of North La Goleta Road, officials said.
The Red Cross set up an evacuation center at the Goleta Valley Community Center at 5679 Hollister Ave.
No injuries were reported.
The Holiday Fire was one of nearly a dozen fires burning in Southern California, where a heat wave shattered records on Friday.
The Box Fire that broke out amid 110-degree heat near the Cajon Pass has burned 100 acres and was 50 percent contained on Saturday, according to San Bernardino National Forest officials.
The Valley Fire that exploded in the mountains east of San Bernardino has scorched about 1,000 acres and was 5 percent contained, authorities said. Forest Falls residents remained under evacuation, and Highway 38 from Bryant Street to Lake Williams Drive was still closed.
In San Diego County, the 504-acre West Fire that damaged or destroyed about 26 structures in the Alpine area was 81 percent contained, officials said.
Forecasters expected temperatures to dip slightly over the weekend, but an excessive heat warning was set to remain in effect in Southern California through 9 p.m. Saturday. A red flag warning was set to expire at 6 p.m.
KTLA's Wes Woods II contributed to this story.
Statewide Wildland Fire Map for Saturday, July 7, 2018 pic.twitter.com/wL6POT1MtZ

— Cal OES (@Cal_OES) July 7, 2018