This is an archived article and the information in the article may be outdated. Please look at the time stamp on the story to see when it was last updated.
A 24-year-old man was arrested in connection with a fatal stabbing early Wednesday in the Koreatown neighborhood of Los Angeles in a crime that created conflicting accounts of what happened.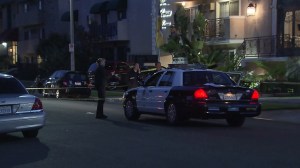 The victim, identified as 32-year-old Luis David Lazcano, was stabbed around 3:15 a.m. on Serrano Avenue near West Third Street. He was rushed to a local hospital and later pronounced dead, according to LAPD Officer Norma Eisenman.
When officers arrived, they found Lazcano lying in the street and a woman rendering aid to him, Lt. John Radke said.
Eisenman had said earlier in the morning that a suspect was in custody.
Police then announced they were still searching for the attacker.
Information from witness eventually led investigators to 24-year-old East Los Angeles resident Miguel Gonzalo Jimenez Jr., according to a news release from the Los Angeles Police Department.
Jimenez was arrested in North Hollywood and booked on suspicion of murder, the release stated.
His bail was set at $1 million.
Police would not confirm if the victim and killer knew each other, but only said the fight occurred in the middle of the street. Crime scene tape blocked the roadway, which was dotted by evidence markers.
A sergeant at the LAPD's Olympic Division initially described the victim as a "good Samaritan," but another official later told KTLA they could not confirm that.
"There were a lot of people out there, and we're trying to talk to them," Radke said. "We need independent people … to call LAPD so that we can assess what really did happen."
He did not believe the crime was gang related.
One other person involved in the incident was taken to a hospital, but his or her condition was not immediately known.
KTLA's Kennedy Ryan, Justin Burton, Steve Bien and Jennifer Thang contributed to this report.
More video: