This is an archived article and the information in the article may be outdated. Please look at the time stamp on the story to see when it was last updated.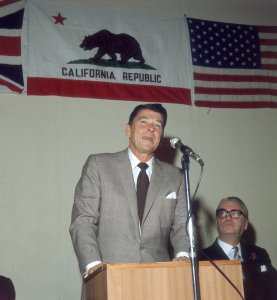 California Gov. Jerry Brown has declared Feb. 6 Ronald Reagan Day in honor of the 107th anniversary of the former U.S. president and governor's birth.
Brown said Californians should recognize Reagan's diplomatic achievements with the former Soviet Union and the economic recovery that occurred during his presidency in the 1980s.
"Above all, we remember the man: his irresistible optimism, faith and good humor," Brown wrote in a proclamation Tuesday. "As a way to honor his memory, I recommend that Californians give as generously as they can to the Ronald and Nancy Reagan Research Institute, an initiative of the Alzheimer's Association."
Reagan has remained a touchstone for conservatives in California. His former coastal mountain ranch in Santa Barbara, for instance, serves as a training ground for young conservative activists across the country.
Read the full story on LATimes.com.