This is an archived article and the information in the article may be outdated. Please look at the time stamp on the story to see when it was last updated.
Gov. Jerry Brown on Wednesday announced a plan to spend $176.6 million to expedite the testing and cleanup of potentially thousands of lead-contaminated homes surrounding a shuttered battery recycling plant in Vernon, significantly boosting state resources for a cleanup that ultimately could cost hundreds of millions of dollars.
Brown previously had proposed spending $8.5 million on the effort, facing criticism from lawmakers and community groups about his commitment to swiftly cleaning up poisonous lead from the soil of as many as 10,000 properties in communities surrounding the Exide Technologies plant.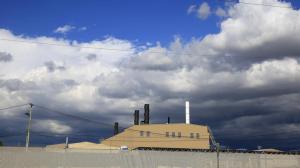 The money would fund an ongoing testing and cleanup effort by the state Department of Toxic Substances Control across six southeast Los Angeles County communities that residents and lawmakers have criticized as slow and lacking in urgency.
In a statement, the governor's office said the funding "will ensure all residential properties, schools, daycare centers and parks within the 1.7 mile radius of the Exide Technologies facility are tested and contaminated soil removed where lead levels are the highest and potential exposure the greatest."
Click here to read the full story on LATimes.com.