This is an archived article and the information in the article may be outdated. Please look at the time stamp on the story to see when it was last updated.
Gov. Jerry Brown on Wednesday requested a major disaster declaration from President Trump to assist with the response to the devastating wildfires that raged across Southern California this month.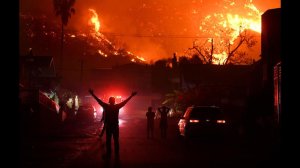 The wind-driven blazes, which ravaged neighborhoods from San Diego County to Santa Barbara County, destroyed more than 1,000 homes and forced more than 200,000 people to flee.
The most destructive — and persistent — among them was the Thomas fire, which burned 272,000 acres across Ventura and Santa Barbara counties and destroyed more than 750 single-family homes. As of Wednesday, it was 60% contained.
"I have determined this incident is of such severity and magnitude that an effective response is beyond the capabilities of the state and affected local governments and supplemental federal assistance is necessary," Brown wrote in the request.
Read the full story on LATimes.com.