This is an archived article and the information in the article may be outdated. Please look at the time stamp on the story to see when it was last updated.
One day after President Trump and a group of like-minded Californians blasted the state's immigration laws, Gov. Jerry Brown on Thursday signed another one: a law that prevents lawyers from revealing the immigration status of crime victims and witnesses in open court unless a judge rules the information relevant to the case.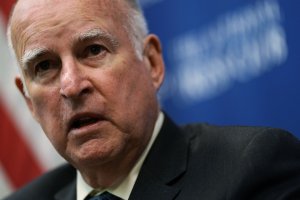 Sen. Scott Wiener (D-San Francisco) introduced the proposal after the state's top judge voiced concerns over reports of immigration agents following immigrants in California courthouses. The efforts were seen as part of Trump's call for mass deportations and increased immigration enforcement.
"Our courthouses should be places of justice, not places where immigrants are threatened with deportation," Wiener said in a statement after the law was approved. "This law makes everyone in our community safer by ensuring that witnesses and victims of crime are not afraid to report crimes, go to court and hold criminals accountable."
The new measure bars a person's immigration status from being disclosed in open court unless a judge finds in a videotaped hearing that it is admissible evidence. It also protects witnesses, victims and defendants, applying in all criminal cases and most civil cases, except those involving personal injury or wrongful death.
Read the full story on LATimes.com.