This is an archived article and the information in the article may be outdated. Please look at the time stamp on the story to see when it was last updated.
Calling the Republican congressional leadership's healthcare proposal an "insult to democracy itself," Gov. Jerry Brown warned Wednesday that the proposal would shift $6 billion in costs a year to California's state government by 2020.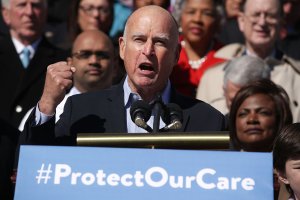 "It's real when you, all of a sudden, send a $6-billion tax bill to the state of California," Brown said in an interview after he delivered remarks alongside Democrats who were on Capitol Hill to mark the seventh anniversary of the Affordable Care Act, known as Obamacare.
"This is devastating," he said.
On the eve of the vote on the proposed GOP replacement for the Obamacare law, Brown's administration released an analysis concluding that the annual costs to the state would grow to $24.3 billion by 2027. California embarked on one of the most aggressive implementations of the ACA, with some 4 million residents now covered under its provisions. Most of those receive health benefits through Medi-Cal, the state's version of the federal Medicaid program for the poor.
Click here to read the full story on LATimes.com.