This is an archived article and the information in the article may be outdated. Please look at the time stamp on the story to see when it was last updated.
With a mandate from President Trump to hire 5,000 new Border Patrol agents, Customs and Border Protection awarded a $297-million contract to a private company to help recruit and hire the new agents and other workers.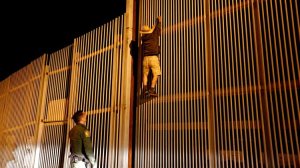 The contract with a division of Accenture, an international professional services corporation with $35 billion in revenues in 2017, comes at a time when the Border Patrol is struggling to meet minimum staffing levels mandated by Congress and is losing more agents per year than it hires.
It also represents one of the larger expenditures so far in the Trump administration's now nearly-year-long drive to increase border security.
In October, work on eight prototype border walls was completed in Otay Mesa near the U.S.-Mexico border — a project for which Customs and Border Protection officials set aside $20 million in the spring.
Read the full story on LATimes.com.