This is an archived article and the information in the article may be outdated. Please look at the time stamp on the story to see when it was last updated.
Amid a warning from forecasters about high winds, low humidity and increased fire danger, a vegetation fire that burned about 40 acres threatened 10 homes in Granada Hills and a second fire broke out less than 2 miles away in Mission Hills on Monday.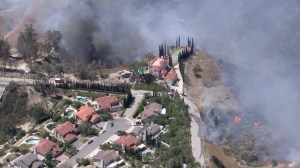 The Los Angeles Fire Department was called to 12311 Highwater Road (map) about 11 a.m., according to the department's Brian Humphrey. A blaze there threatened 10 homes that were safely evacuated, Humphrey said.
A handful of responders sustained injuries that were not life threatening during the firefight, and at least two were taken to a hospital for further evaluation, Humphrey said. No civilians were injured.
As firefighters neared a knockdown and battled spot fires in the burn area, LAFD stated no final acreage was available. It took about 90 minutes to contain the blaze, which burned 40 acres of grass and brush, Humphrey said.
A homeowner clearing brush with a steel-blade power tool caused the fire, Humphrey said. A spark ignited brush and the man's attempt to control the flames with his jacket scattered embers, spreading the fire.
At about 12:45 p.m., firefighters were called to a grass fire in Mission Hills, near Roxford Street at the 5 Freeway (map), according to an LAFD alert.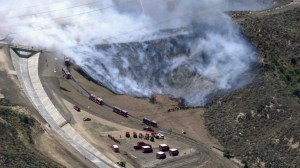 There, fire was blackening a hillside with no homes nearby. It appeared to be burning next to the LADWP-operated Van Norman Bypass Reservoir, aerial video from Sky5 showed.
Fifty city fire personnel were aided by four county camp crews and a city helicopter in the firefight, which was over in about 1 hour, 45 minutes, according to Humphrey.
Two acres of grass burned within the L.A. Department of Water and Power facility, and no one was injured and no structures harmed.
The causes of the Mission Hills fire remained under investigation.
In Granada Hills, more than 300 firefighters from the city and county and fire departments were on scene, LAFD spokesman David Ortiz told KTLA.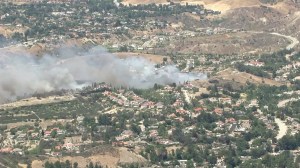 The flames appeared to have burned dry brush on a hillside near a large home with a pool and a tennis court. The home was somewhat isolated and on the other side of Highwater Road from a cul-de-sac of houses on Bryan Place.
Highwater Road was acting as a firebreak, Ortiz said.
"We're getting a good handle on it," Ortiz said just before noon.
The fire was "not in full alignment with the winds," allowing firefighters to get in place on foot, Ortiz said.
Wind gusts of 35 to 50 mph were expected Monday in the San Fernando Valley, according to the National Weather Service, which warned about elevated fire danger amid low relative humidity. A wind advisory was in effect through 2 p.m. for region.
The humidity was not as bad as is typical of red-flag conditions, Ortiz said.
"We have had four years of drought," Ortiz said. "We have a lot of dead grass, a lot of vegetation fuels for this fire to be a danger. So we are … hitting it hard and trying to put it out before the winds change direction."
No homes were damaged, mostly due to compliance with brush-clearance mandates, LAFD stated in a tweet.
#HighwaterFire at 12:06 PM PDT | Temp 78.1°F | Wind 10.2 MPH from ENE with Gust to 20.7 MPH | Humidity 12% | Sky Clear | Visibility 10 MI

— LAFD (@LAFD) April 27, 2015
Gusty NE winds through this afternoon #LAweather pic.twitter.com/Jetf5LAkvw

— NWS Los Angeles (@NWSLosAngeles) April 27, 2015
Wildfire is coming. Ensure your home is ready with these tips on defensible space: http://t.co/cA1srVnzTa pic.twitter.com/ZpkCk3UU9K

— CAL FIRE (@CAL_FIRE) April 27, 2015
More Video: