This is an archived article and the information in the article may be outdated. Please look at the time stamp on the story to see when it was last updated.
Police believe alcohol intoxication played a role in an incident in which a car crashed into a Corona home and set off a blaze early Monday morning.
The 72-year-old woman was sleeping with 7- and 8-year-old grandchildren in a guest house of a residence on the 1000 block of Cleveland Way when the vehicle smashed through a wall around 2 a.m., according to a joint press release issued by the Corona fire and police departments.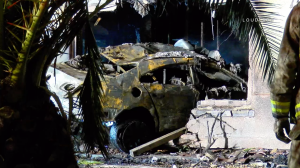 The impact caused a fire to break out, and the detached guest house was fully involved by the time first responders arrived on scene. The unit was extensively damaged and red-tagged by the Corona Building Department.
Footage from the scene showed flames visible above the building's roofline, and a large hole where the vehicle had smashed through and come to rest entirely inside the home.
The grandmother was hospitalized with minor burns to her hands while the children were uninjured.
The car was carrying two men. The driver, a 23-year-old, was found on the ground outside the home with serious injuries, and the 22-year-old passenger was located nearby and complaining of pain, officials said.
The driver was taken to a nearby burn center, while the passenger was taken to another local hospital for treatment.
Investigators have concluded that the men were traveling down Gilbert Avenue at a high rate of speed when their car veered off the road and smashed through a decorate stucco wall surrounded the family's yard. The vehicle continued barreling across the front lawn until it drove into the home's living area.
The car's front end came to rest directly behind the wall where the woman lay in her bed sleeping.
The vehicle has been marked as a total loss.
No arrests have yet been made, officials said, but the driver is cooperating with law enforcement. Although alcohol is suspected to have been a factor, test results and pending and the investigation remains open.
No further details were immediately available.