This is an archived article and the information in the article may be outdated. Please look at the time stamp on the story to see when it was last updated.
LANCASTER, Calif. (KTLA) — A witness called during Monday's preliminary hearing for a man believed to be the owner of four pit bulls that mauled and killed a 63-year old woman described the horrifying scene she encountered in May.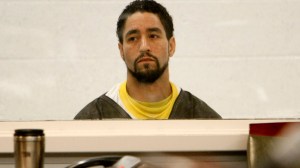 The witness testified that it was the scariest thing she'd ever been through as she sat helplessly in her truck and tried to scare away the pack of pit bulls by honking.
Pamela Marie Devitt, who was covered in blood, barely had any clothes on and was still being bitten by the dogs even after the first emergency responder arrived, the witness said.
Devitt died while being transported by ambulance to the hospital.
Later that same day, homicide investigators seized eight dogs, including six pit bulls and two mixed breeds, from 29-year-old Alex Jackson's home on 115th Street.
Four of the pit bulls were believed to be involved in the attack. The dogs had what appeared to be blood on their coats and muzzles, according to investigators.
The L.A. County Coroner's office conducted an autopsy on Devitt and determined she died from loss of blood from about 150-200 puncture wounds.
DNA tests conducted on blood found on the pit bulls revealed that it belonged to Devitt, according to the sheriff's department.
The case was presented to the L.A. County District Attorney's Office, and murder charges were filed against Jackson on May 29.
Jackson has pleaded not guilty. If convicted, he could face life in prison.