This is an archived article and the information in the article may be outdated. Please look at the time stamp on the story to see when it was last updated.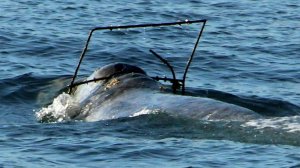 Rescuers are searching for a gray whale that got caught in a metal fishing frame as it swam north off the coast of Southern California, according a conservation group.
The tangled mammal was spotted about 3:30 p.m. Saturday outside Dana Point Harbor, according to the American Cetacean Society's Los Angeles Chapter. The whale's head appeared to be lodged in a metal frame fishing gear.
"This unusual entanglement includes large metal gear that likely goes through its mouth," the group wrote in a Facebook post.
Hours after being spotted off Dana Point Harbor, the whale was seen swimming with another whale about a mile off Newport Harbor, the conservation group said on Facebook.
Click here to read the full story on LATimes.com.