This is an archived article and the information in the article may be outdated. Please look at the time stamp on the story to see when it was last updated.
A gray whale that was believed to have somehow separated from its mother could be seen swimming close to the Marina del Rey shore and under a boat dock Tuesday afternoon, video showed.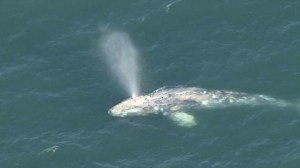 Officials monitored the whale as it migrated from Malibu to the Marina del Rey area around 1 p.m., but didn't see anything harmful about its activities, L.A. County Lifeguard Chief Fernando Boiteux said.
It appeared to be a baby gray wale that was 20 feet long, L.A. County Sheriff's Department Deputy Tim Householder said.
Officials were concerned the baby had separated from its mother and was lost.
"There's two concerns, being hit by a boat on accident, and the whale not being able to find its way out," Householder said.
Gray whales are often spotted close to North American shores when migrating, but it was unusual to spot the whale near California's coast this time of year, according to the president of Marine Animal Rescue.
Despite concerns, dozens of people hurried to the beach to try and spot the creature.
"I was pretty excited, I'm a big animal lover," Madison Jackson told KTLA.
@KTLA Gray whales will come close to shore while migrating: http://t.co/wOpQqtgC5V *Pic* Gray off @mb90266 from 2013 pic.twitter.com/qIHqNVoymN

— LACoFD Lifeguards (@LACoLifeguards) September 10, 2014