This is an archived article and the information in the article may be outdated. Please look at the time stamp on the story to see when it was last updated.
California wildlife officials believe a gray wolf has been moving through a remote part of Siskiyou County.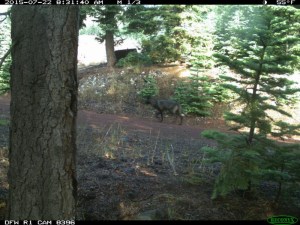 The state Department of Fish and Wildlife announced Monday that evidence points to the presence of a male wolf in the far northern area of the state, although DNA testing on scat collected failed to show conclusively that the animal, captured on camera, was a gray wolf.
Officials said that earlier this summer they began receiving reports of sightings of a large, dark-furred animal. Wildlife authorities set up trail cameras in an effort to catch a glimpse of the animal.
In early May, images from those cameras showed a large, dark, single animal.
Click here to read the full story on LATimes.com.