This is an archived article and the information in the article may be outdated. Please look at the time stamp on the story to see when it was last updated.
A Lawndale neighborhood had to be evacuated overnight after deputies responding to a suspicious vehicle call late Thursday night found 15 to 30 military ordnance — some dating back to World War II — in the backyard of a home, authorities said.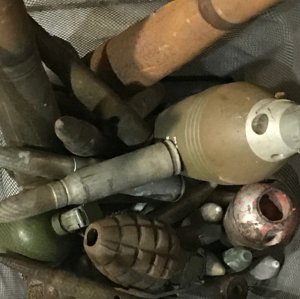 The call came in about 11 p.m. for the vehicle in the 14700 block of Avis Avenue, which had been parked in front of a home for several hours with two occupants inside, the Los Angeles County Sheriff's Department stated in a news release.
When deputies arrived, they contacted a man and woman inside the vehicle. The man told them he was on parole, prompting deputies to conduct a parole check.
Both occupants were eventually detained after a firearm was found inside the vehicle, the release stated. After, the man told deputies there were additional firearms inside the home.
Deputies then checked the perimeter and encountered what appeared to be ordnance; they also discovered a cache of explosives in the backyard of the residence, the Sheriff's Department stated.
Authorities began to evacuate the neighborhood as they waited for a bomb squad to arrive; about 75 to 100 residents were impacted by the order, the Los Angeles Times reported.
"They told us that it was a bomb threat and we needed to evacuate immediately," one resident told KTLA.
The evacuation order lasted well into the day, until the Sheriff's Department announced shortly after 2 p.m. that bomb technicians had cleared the property and residents were allowed to return to their homes.
Avis Avenue was also temporarily shut down from West 147th Street to 149th Street as authorities investigated.
Most of the devices were found to be inert and were transported to a location for safe disposal, according to a news release from the department.
Investigators also discovered a case of military grade ammunition, which was X-rayed to determine if it could be safely removed, the release stated.
An arson detail team worked through the day to safely remove the explosives from the neighborhood and render the area safe.
It was not immediately clear how the ordnance to came be at the location. Sheriff's officials said the home was vacated and appeared to be inhabited by transients.
Meanwhile, the man who was detained was subsequently arrested on suspicion of possessing a loaded firearm and was taken to the sheriff's South L.A. Station for booking, according to the release. His name was not immediately released.
The detained woman was released.
Anyone with information about the incident was asked to call the Sheriff's Department at 323-881-7500. Those who prefer to remain anonymous can call Crime Stoppers at 800-222-TIPS (8477).
KTLA's Geoff Peters and Alexandria Hernandez contributed to this report.
Explosives found inside #SLA home. This is an active situation, please avoid area 14700 blk Avis Av, #Lawndale #LASD https://t.co/4W1Gb4lfbd pic.twitter.com/fdUEZ1dBVT

— LASD South LA (@SouthLALASD) September 29, 2017
Arson/Explosive Bomb techs prep for X-ray of military ordinance devices found in bkyard shed #WWII #LASD 14700 blk Avis #Lawndale pic.twitter.com/VyOhoR82rM

— LA County Sheriffs (@LASDHQ) September 29, 2017