This is an archived article and the information in the article may be outdated. Please look at the time stamp on the story to see when it was last updated.
A Greyhound bus that had departed from Los Angeles crashed outside San Jose Tuesday morning, killing two people and leaving 18 others injured, authorities said at the scene.
The crash occurred around 6:40 a.m. on the northbound 101 Freeway at the State Route 85 connector.
The bus was transitioning onto the HOV connector to State Route 85 when it left the road and collided with several large attenuator barrels at the base of the ramp, according to a news release from the California Highway Patrol.
After colliding with the barrels, the bus overturned onto its right side and came to rest atop the concrete median wall, the release stated.
Two people were killed after being ejected from the bus, five people sustained possibly life-threatening injuries and 13 others suffered minor injures, a fire official said.
The driver remembered striking the median and then, the next thing he knew, the bus was on its side, Officer Chris Miceli of the CHP said Tuesday afternoon.
"He had mentioned that he was fatigued, but he did not indicate that he fell asleep," Miceli said.
The driver was later identified by the CHP as 58-year-old Gary Bonslater of Victorville.
A witness said the bus was going about the speed limit and had made a smooth lane transition before the crash, Miceli said.
The two people who died were women, the Los Angeles Times reported.
Twenty-one people, including the driver, were on the bus, according to a spokeswoman for Greyhound. The Times initially reported that CHP said 40 people were on board.
Aerial footage showed the damaged bus on its side, blocking several lanes. More than a dozen patrol vehicles and fire trucks were parked at the scene.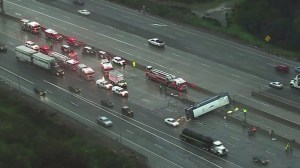 The bus was No. 86558 and on schedule 6876, Greyhound spokeswoman Lanesha Gipson told KTLA.
It was scheduled to depart from downtown L.A. around 11:30 p.m. Monday and make stops in Avenal, Gilroy, San Jose, San Francisco and Oakland, Greyhound's website showed. It crashed between the Gilroy and San Jose stops, Gipson said.
Gipson did not have confirmed details on the number of people injured or killed. The cause of the crash was under investigation, she said.
There was no initial indication that alcohol and/or drugs played a role in the crash, the CHP stated.
Family members wanting to check if a relative was on the bus can call Greyhound at 800-972-4583, KRON reported.
KTLA's Jennifer Thang contributed to this article.