This is an archived article and the information in the article may be outdated. Please look at the time stamp on the story to see when it was last updated.
Griffith Park groups lose legal battle over pathway to see Hollywood sign
Community groups lost a legal battle Thursday to reopen a pathway into Griffith Park that had been popular with hikers and tourists trekking to see the Hollywood sign.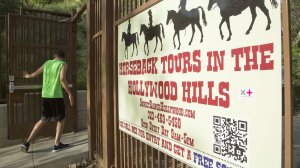 Los Angeles Superior Court Judge James Chalfant ruled that the city had not broken the law when it locked the Beachwood Drive entrance gate to pedestrians last year.
The city locked the gate after being sued by Sunset Ranch Hollywood Stables, which argued that L.A. had blocked its business and put people at risk as thousands of hikers were funneled onto a winding access road leading to its facility. The ranch has long had a right-of-way agreement, or easement, that allows staff and customers to cross city property.
Shutting the entrance gate was applauded by some Beachwood Canyon homeowners who had complained about traffic, fire hazards and other dangers from the crowds of tourists hiking up their street to the Hollyridge Trail.
Read the full story on LATimes.com.