This is an archived article and the information in the article may be outdated. Please look at the time stamp on the story to see when it was last updated.
An injured hiker was airlifted in critical condition from Griffith Park after being assaulted on Monday afternoon, authorities said.
Police were called to the scene at 2:30 p.m. with a report that a male hiker of unknown age was assaulted, Officer Jack Richter with Los Angeles Police Department's Media Relations Section said.
A search was ongoing for the assailant or assailants, Richter said.
Two hikers spotted the man and called 911, according to Jared Cooper of the Los Angeles Fire Department. The victim, a man in his 30s, had life-threatening injuries, Cooper said on scene.
Witnesses saw a man running from the area, but were not able to give a investigators a good description, according to officers at the scene.
The hikers who called 911 told KTLA the victim had blood all over his face. The victim was about 3/4 of a mile up a trail that begins off Western Canyon Road (map).
He suffered multiple facial injuries and was struck severely around the head, LAPD Sgt. Douglas Bowler said.
LAPD detectives said the man, who did not have identification on him and had not been identified, was expected to survive.
The Fire Department's helicopter was called to the park to airlift the patient about 2:12 p.m., Katherine Main of LAFD stated in an emailed alert. The hiker was in critical condition, Main said.
The helicopter landed at Cedars-Sinai Medical Center about 3 p.m., when the patient was taken out on a stretcher, video from Sky5 showed.
The address given for firefighters' response was 2297 Fern Dell Drive (map), which corresponds to the area near the entrance to the park off Los Feliz Boulevard.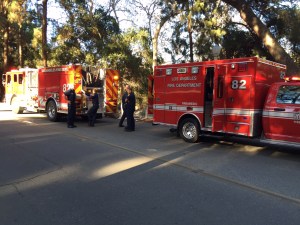 Aerial video showed at least one LAPD patrol car and a park ranger's SUV on what appeared to be a dirt fire road in the park. An ambulance was parked on Fern Dell Drive.
The area is very popular with hikers, joggers and dog-walkers.
Police in May had warned the surrounding community about two sexual assault attempts that occurred in the park.
A sketch of the attacker was issued in the first incident; the second was described by  police as being "very violent."
KTLA's Scott Williams contributed to this article.
More Videos: